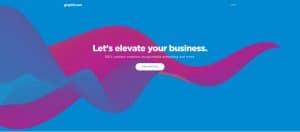 Do you have the time and staff to manage social media, content creation, and online marketing for your business? As a business owner you know the importance of having a good online presence. Also, relevant online strategy includes social media marketing, search engine optimization for your website, and content creation to engage your current and potential customers. In addition, are you doing weekly or monthly email newsletter marketing and drip campaigns?
You probably want to be more consistent with your online marketing, yet you're not sure what that strategy should be, and how you should be doing it. Do you delegate it to an employee? Are they trained in all areas of online marketing or are you giving them the task because you see them on Facebook or Twitter while at work? Hint: that doesn't make them an expert.
The problem for most businesses that struggle online is that they don't have the time or the trained staff to handle all areas of their online marketing.
At Graphic Zen, we've created a way for you to outsource online marketing, and as a result you can focus on the core of your business. It's called Elevate by Graphic Zen, and you can see what it's all about by visiting //elevate.graphiczen.com. No monthly contracts, no hourly pricing, no time tracking, just simple flat-rate pricing.
Elevate by Graphic Zen provides:
3 levels of Social Media Management
Facebook Ad Management
Adwords Management
Content writing for blogs
Website copy writing
LinkedIn article writing
On-Page Search Engine Optimization
Off-Site Search Engine Optimization
PR Email Management
Email Newsletter Management
& more!
Finally, you now have the ability to increase your online marketing at a fraction of the cost of a full-time staff member. Reaching more potential customers and engaging your current customers is key in today's online business world. Elevate by Graphic Zen gives you the tools to compete online and elevate your business! Take us for a test drive today by visiting //elevate.graphiczen.com.